Welcome!
StepWhere helps helps active people discover the best places to run, walk, and hike.
Learn more »

Recent Running, Walking & Hiking Trails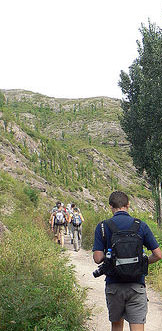 What is StepWhere?
StepWhere helps you find the best routes to run, walk or hike.
Whether you're looking for on road training runs, relaxed walking trails, or challenging hiking paths, StepWhere puts the best routes right on your map - worldwide.
To make this possible, StepWhere combines the Google Maps infrastructure with a simple interface allowing you to literally draw your favorite routes straight onto the map.
If you carry a GPS unit, you can also directly upload routes into StepWhere, as well as downloading routes you plan to explore into your GPS.
Join our community
StepWhere is young and growing fast. What it needs most is people like you to submit your favorite running, walking or hiking routes.
As we collect new routes, StepWhere will become an ever more useful resource for active people like you!
Membership is free, fast and easy. So join now »
Becoming a StepWhere member will allow you to submit routes, make comments in our forum, keep track of your favorite routes and more.
Go ahead and Sign Up »